In recent years there has been a staggering proliferation of confusing new food labels appearing on items found on your supermarket shelves. Interpreting these new "dietary hieroglyphs" can be a challenge to even the most informed consumer. While some labels are issued by research-based Certifying Authorities and offer thorough explanations of what they signify, others are underpinned by less empirical foundations, if any at all. But which are which? The food-label design market is undergoing an unprecedented boom. (insert graphic here) It would seem that now would be an ideal time to be a graphic designer! The examples below, of competing symbols for the "Gluten-Free" label, are only a small sample of the myriad of symbols currently vying for pre-eminence in the new and increasingly lucrative "Gluten-Free" food market.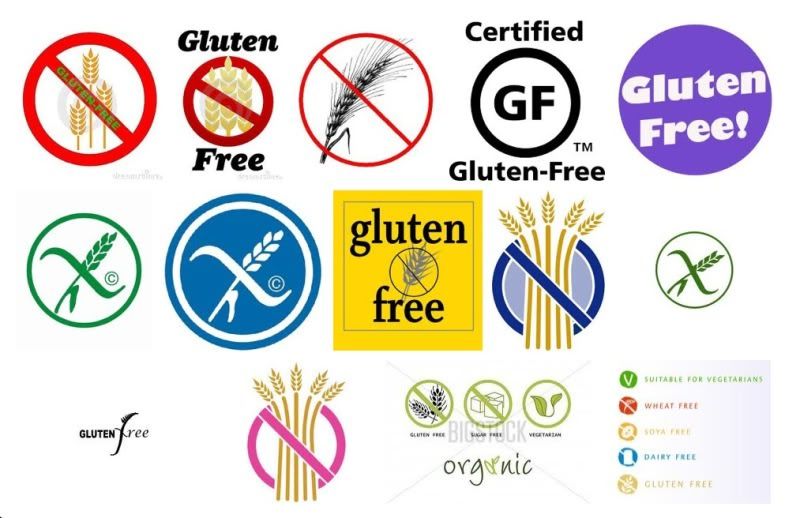 Apparent Difficulty Reaching Consensus On Label For "Gluten-Free" Foods
MEANWHILE, overheard at a grocery store near you:
"Do you guys want to get some ice-cream?" I asked hopefully, as Kim, Skye and I strolled by the frozen section at our local grocery store.
"Yeah!", both girls exclaimed in unison.
"What flavours have they got?" Kim asked, as we stopped to look.
I began to read the labels, "Chocolate, vanilla, coffee, strawberr..."
"I want Gluten-free!", Skye interrupted, striking that self-righteous pose she'd been practicing lately.
"Gluten-free is NOT a flavour, Skye", I managed. Kim laughed.
"Yeah, it is!", Skye exclaimed. My eyes began to roll upwards.
"No, she's right", Kim said, "it IS a flavour- it tastes like crap".
________________________________________________________________________________
The scenario presented above is intended purely for satirical purposes, (foodies, don't get your knickers in a knot) and the names of the consumers have been changed. Nonetheless, the truth it describes typifies a post-modern and unfortunate new trend in food consumerism and group decision-making. Eating is becoming more highly individualized and regimented, as opposed to the social and flexible activity it once was. The "Breaking of bread"(Gluten-free or otherwise) with others, sharing food and the conversation that follows is an integral part of building and living in community with others. Sharing food (nutrition for the body) and ideas (nutrition for the mind) is an essential cohesive dynamic. The more recent trend of "personalized" eating, take-away meals for one and the apparent rise in food sensitivities may foreshadow other emerging social food/eating complications:
Have you experienced a similar "food control" issue lately? Have you perhaps avoided hosting dinner parties for fear of not being able to satisfy the ethical, political, economic, religious, and dietary needs of your friends? Have you stood for countless hours while shopping, carefully reading labels and trying to recall the precise difference between the "USDA Organic" and "Certified Organic" labels? If so...
Share Your Thoughts Below!

For more information on the need to standardize food labels and the dangers caused by misleading or misunderstood certifications see: FOOD LABEL DANGERS